INTERNET CLUB
OVERVIEW:
The Internet Club of Ansar Women's College has been active in the campus since its inception. It was formed by the Institution recognising the need of the changing world scenario to imbibe certain internet skills in the students. The club volunteers actively involves in creating, designing and updating the college website and organizes various activities and awareness sessions related to the same.
As the popularity of the internet continues to grow at an exponential rate, easy and affordable access is quickly becoming a necessity of life. KLOUT- the internet club of Ansar Women's College provides the students with the ability to access the internet. The name KLOUT (Klout is a website and mobile app that uses social media analytics to rate its users according to online social influence) is chosen as the official name for the College Internet Club.
Our Motto: " Appraise Your Digital Potential "
STAFF CO-ORDIATOR: Priya P.P
STUDENT CO-ORDINATOR:Suhaila P T
"INDEPENDENCE DAY QUIZ COMPETITION"
Internet club & P G Department of Computer Science Jointly organized an online live quiz on 16 th august 2021 in connection with 75 th Independence Day.In charge of our programme is Mrs.Priya. P.P. Coordinator of this programme is Mrs.Uma Miss. The faculty members who helped for the success of this programme is Fayisa, Prapitha and Saji Miss. The competition was done through 2 phases. 1) Preliminary phase and 2) Main phase.Main phase consists of 4 rounds. There was an elimination after first and third round. 5 Students were selected from first round. Out of 5 students from the second round and third round 3 were selected as winners.
1) Muhazeena Fathima From S5 BSC CS
2) Amina Sakker From S3 BSC Maths
3) Hasna P.M From S5 B.COM COOPERATION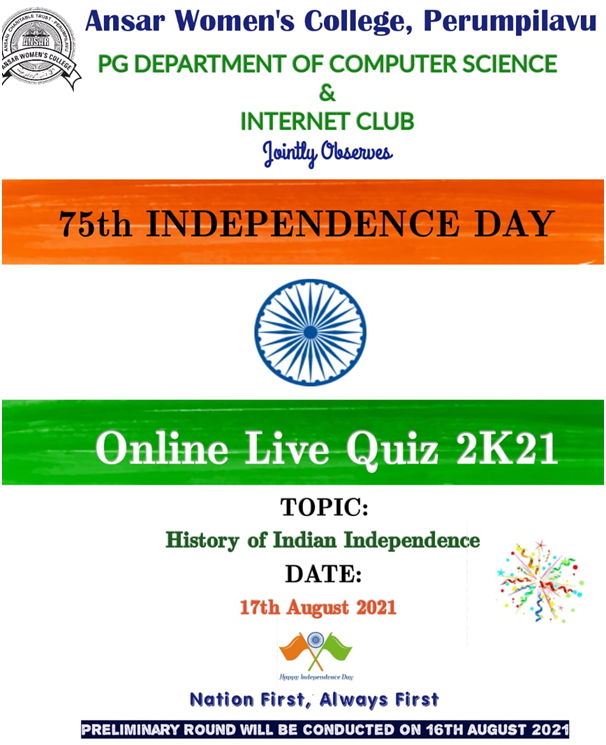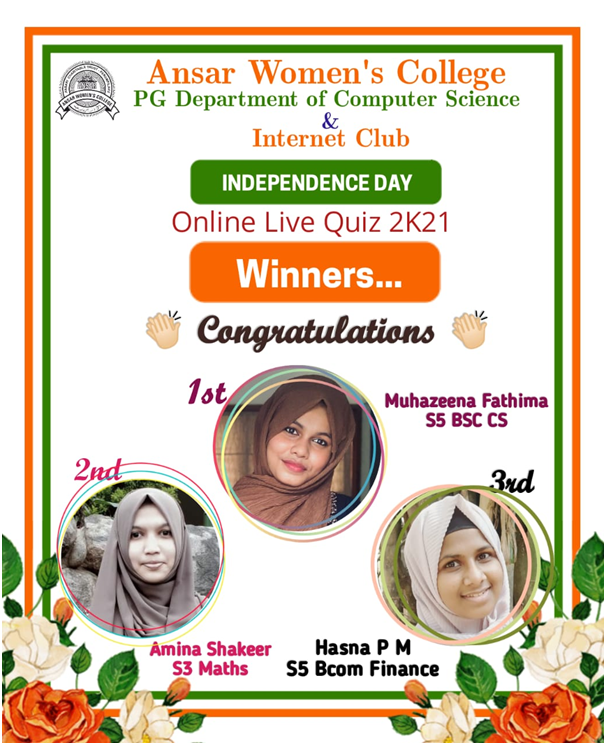 Internet club & PG Department of Computer Science organized an online quiz in connection with International Computer Security day on 30 November 2020 @ 2 PM. We prepared 20 questions related to the topic "Cyber Security" for the quiz. 135 students participiated in the online quiz and E-certificates were distributed for the participants who scored above 40% in the quiz
WEBINAR ON CYBER SECURITY
Internet club & P G Department of Computer Science jointly organized a seminar in connection with International Computer Security day on 3rd December 2020. As part of this our chief guests Mr.Knight M O (Sub Inspector of police, Cyber Crime Police Station, Thrissur City) and Shinith M S (Civil Police Officer, Cyber Crime Police station, Thrissur City) presented a seminar on the topic "Cyber Security". The inaugural session started with prayer, the presidential address was delivered by Mr.Arif T A (Vice Principal,AWC) and welcome speech by Mrs.Priya P P (Asst.Professor, Dept of CS) and valuable presence of Mr.Noor Mohammed (IT head, Dean of the College). The seminar was very effective to all students and teachers. It was very interactive and effective.