FACULTY TRAINING PROGRAMME
To optimize and integrate modern methods of teaching and learning, IQAC organized 'RENEW 2021', Faculty training on Online Teaching Methods: Toolsand Assessment on 3rd June 2021 at 3.30 PM in Zoom. Dr. Mahmood Shihab K M, Principal, Ansar Training College handled the session. Ms. Faritha J, Principal welcomed the resource person and detailed the relevance of the session. After the welcome address, Dr. Mahmood Shihab handled the training session.
Training Programme for teachers on
'How to use Learning Management System Effectively'
Internal Quality Assurance Cell of Ansar Women's College organized a Training Programme for the Faculty Members on 'How to use Learning Management System Effectively' on 28th May 2021 at 10.00 am in Zoom Platform. All the Faculty members actively attended the training programme. Ms. Shravya Murthy from Campus Technology, Bengaluru handled the session effectively. In this online training programme she made use of demo videos which cover everything from customizing e-learning templates to exploring the dashboard.
1. An initiative of IQAC for enriching teachers about the vast and wide knowledge possibilities in MOOC
.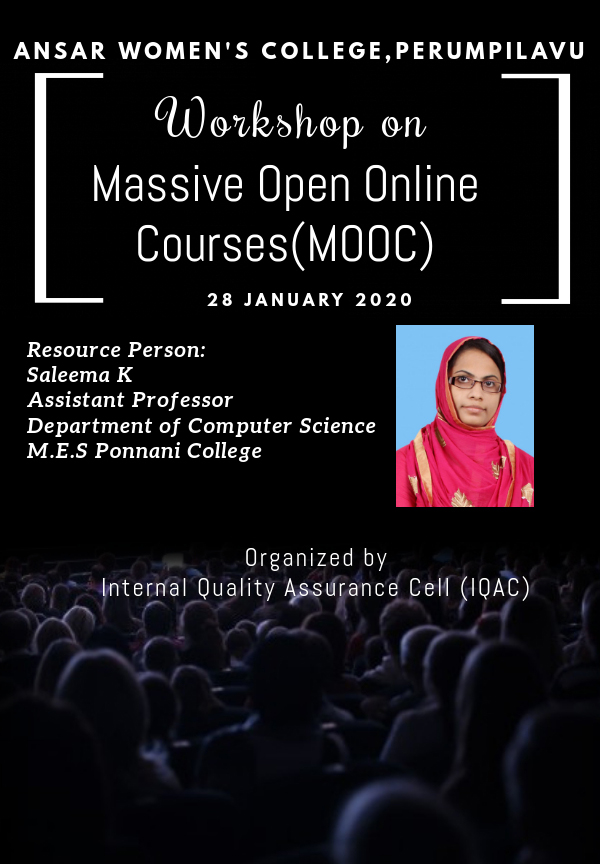 2. An initiative of IQAC, Ansar Women's College to assist faculty members to create their own digital classroom which is a 5 day online training Faculty development program resourced by our sister institution Ansar Training College for Women.