WOMEN EMPOWERMENT CELL
Ansar Women's College was established for achieving its noblest aim of empowering and uplifting minorities, especially women. To fulfil the vision of the Forefathers, the Women Empowerment Cell of Ansar Women's College was started with the aim of empowering and orienting women to recognize their true potential and help them to attain strength to set their marks in this competing world. In modern days women are more aware of their society and believe in their strength, handles their weakness with grace, identifies the goodness in things and shows responsibility towards their social duties. But women sometimes face violations of their fundamental rights. This necessitates the establishment of safeguards to provide gender equality.
KSWDC got sanction from State Government to implement women-cell in 40 selected women's colleges in Kerala aiming to make women aware of their rights and duties. Through Women-Cell they want to provide a platform for students to share their experience, views about gender inequalities, their status in society and suggest ways to empower. The objective of Women Cell is to intellectually enrich and uplift women students. Ansar Women's College being a platform for women empowerment doesn't need a second thought to accept the invitation from KSWDC to constitute a Women-Cell. Women cell was constituted in Ansar Women's College during the academic year 2013-14. The Cell has been working to safeguard women's rights and safety and to raise awareness of gender equality.
OBJECTIVES:
· To inculcate among the youth a sense of social commitment
· To act as a linking channel between women community and KSWDC
· To create a feeling of empathy among students for their fellow beings
· To provide training for Women empowerment
· Explore the talents of students and utilize them for the betterment of society
· To promote a culture of respect and equality for the female gender.
· To organize awareness programs on gender sensitization
· To conduct seminars and workshop to impart knowledge of opportunities and tools available
and train the women.
· Organizing different activities to make women aware of their health, sports, self-defence etc.
· Counselling services for resident and non-resident students.
· To inculcate entrepreneurial attitude among young girls, so that they can be job providers
rather than job seekers.
Women Cell Co-ordinator: Manju Krishna VR
Current Year Programmes
Women cell activities 2019-20 was inaugurated by Afsana Parveen IAS (Sub-Collector Thrissur) on 28th October 2019 in collaboration with a one-week Defence Training programme conducted by the PG Department of Commerce
Ansar Mental Rehabilitation Centre Visit
Visited Ansar Mental Rehabilitation centre on 5th February Wednesday 2020 as a part of Community Intervention Programme to mould the students as matured and responsible individuals. Students interacted with them and Provided lunch to 55 inmates
Film Festival VANGUARD VII was conducted by Women-Cell in collaboration with the Dept of Mass Communication and Audio Visual Club on 20th February 2020 Anu Pappachan (Asst .professor Vimala college Film &Theatre critic)inaugurated the function and film screening of two films Queen of Katwe and Hidden Figures was done.
NATIONAL CHILD DAY OBSERVATION
An awareness class to High School Students of Ansar English School on the topic "Adolescent age and its problems" was given by Women-Cell in collaboration with the Department of Psychology on 24th January in 2020 as a part of National Child Day Observation. The session was handled by Ms Kashmeela ET and Ms Shehanaz M.H (Faculties of Ansar women's College) respectively
HEALTHY WOMEN EMPOWERED WOMEN
A health awareness class on General Gynaecological issues was given to students by Dr Sree Parvathy (Assistant professor Panchakarma Ashtangam Ayurveda college, Vavanoor) on March 9th 2020 as a part of International Women's Day Observation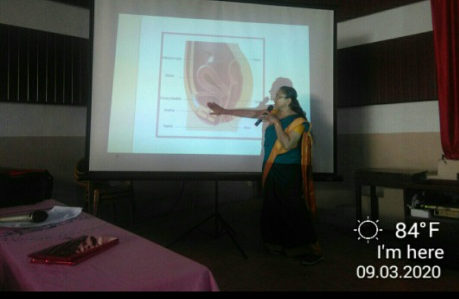 INSTALLATION OF SUGGESTION BOX
A Suggestion Box was installed on the college campus as per the request of Women-Cell to provide an opportunity for the students to drop their suggestions