WOMEN EMPOWERMENT CELL
Ansar Women's College was established for achieving its noblest aim of empowering and uplifting minorities, especially women. To fulfil the vision of the Forefathers, the Women Empowerment Cell of Ansar Women's College was started with the aim of empowering and orienting women to recognize their true potential and help them to attain strength to set their marks in this competing world. In modern days women are more aware of their society and believe in their strength, handles their weakness with grace, identifies the goodness in things and shows responsibility towards their social duties. But women sometimes face violations of their fundamental rights. This necessitates the establishment of safeguards to provide gender equality.
KSWDC got sanction from State Government to implement women-cell in 40 selected women's colleges in Kerala aiming to make women aware of their rights and duties. Through Women-Cell they want to provide a platform for students to share their experience, views about gender inequalities, their status in society and suggest ways to empower. The objective of Women Cell is to intellectually enrich and uplift women students. Ansar Women's College being a platform for women empowerment doesn't need a second thought to accept the invitation from KSWDC to constitute a Women-Cell. Women cell was constituted in Ansar Women's College during the academic year 2013-14. The Cell has been working to safeguard women's rights and safety and to raise awareness of gender equality.
OBJECTIVES:
· To inculcate among the youth a sense of social commitment
· To act as a linking channel between women community and KSWDC
· To create a feeling of empathy among students for their fellow beings
· To provide training for Women empowerment
· Explore the talents of students and utilize them for the betterment of society
· To promote a culture of respect and equality for the female gender.
· To organize awareness programs on gender sensitization
· To conduct seminars and workshop to impart knowledge of opportunities and tools available
and train the women.
· Organizing different activities to make women aware of their health, sports, self-defence etc.
· Counselling services for resident and non-resident students.
· To inculcate entrepreneurial attitude among young girls, so that they can be job providers
rather than job seekers.
Women Cell Co-ordinator: Manju Krishna VR
Current Year Programmes
Girl Child Day Observation "Know Yourself"
Women Empowerment Cell in Collaboration with Centre for Life Skill Education observed Girl Child Day on October 11th 2021 through Zoom Platform at 3 .00 pm .Faritha J (Principal ,Ansar Women'sCollege) presided the function and gave the objectives of Girl Child Day Observation that this day is observed to amplify the voices and rights of girls everywhere with objectives of generating awareness on the issue of declining Child Sex Ratio (CSR) and create a positive environment around valuing the girl child. The theme for the year 2021-22 is, "Digital Generation Our Generation".
National Webinar on Women Empowerment
A national webinar on Gender Sensitization was held on 29th September 2021, in order to promote women's sense of self-worth, their ability to determine their own choices, and their right to influence social change for themselves and others. The programme was effectively conducted through the zoom platform. It was efficiently organized by IQAC and Women Empowerment Cell of Ansar Women's College (under KSWDC) and the PG Department of English, under the sponsorship of Little Flower College, Guruvayoor and UGC NAAC Paramarsh Scheme.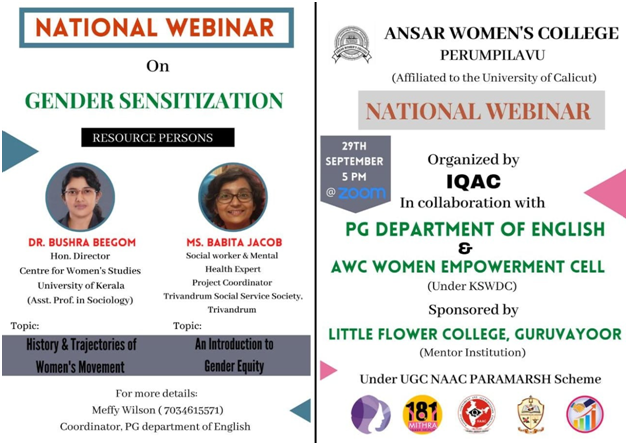 Report on "Mochitha"Short Film Competition
Women Empowerment Cell in collaboration with PG Department of English conducted a short film contest based on Women Empowerment in connection with Women Equality Day (August 26 ).The first Prize was awarded to DelnaLazer (S3 BA Mass Communication) .The second Prize was awarded to Fathima K.C (S3 B.Sc Physics).A Cash award of Rs 1000/- was declared for First Prize and Rs 500/ was declared for Second Prize respectively
"
"APARAJITHA"- DOMESTIC VIOLENCE AND ITS SOLUTIONS
As a part of enhancing awareness about the solutions for Domestic Violence Women cell of Ansar Women's College in collaboration with Jananeethi ( A Human Rights organisation ) arranged a Panel discussion with eminent personalities from various departments who are connected with Domestic Violence on 3rd july 2021 Saturday at 10.30 AM in Zoom platform . The intention of this session was to provide knowledge to our students about the provisions against Domestic Violence so that they will be able to overcome the problems related to Domestic Violence.